2 Story

 Versus 

Ranch
BY CHAFIN COMMUNITIES
---
What Do You Want In Your New Home?
Which plan is better for you? What about now AND later?
There are two ways to look at the facts to help you decide:   #1 – Pros and Cons.  #2 – The Different Features 
---
#1 Pros and Cons: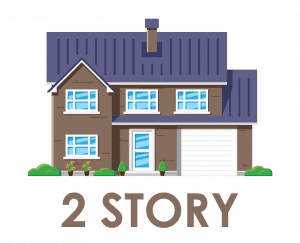 2 STORY FLOOR PLANS
PRO of 2 Stories:
PRO – Less expensive per square foot – 2 Stories with owner's suites up are usually less expensive than ranches and 2 stories with owner's suites on the main.  This is because those plans both need a larger foundation, so they require more concrete, more roofing and larger homesites.
PRO – Extra privacy – The second story windows tend to be high enough up to make viewing from outside easy.
PRO – Lower risk of burglary – If you accidentally leave a bedroom window open, odds are it is out of reach upstairs.
PRO – More square feet – 2 stories tend to have more square feet since you two stories to spread it out.
PRO – More design options – 2 stories tend to have more flexible ways to use spaces…like turning a dining room in to a playroom. Or taking the 2 story great room and making it one story with a giant media room or loft up. Or adding an additional bedroom and bath up instead of the 2 story great room.
PRO – Larger Yards -The 2 story plans often have much smaller foot prints than a ranch, giving you usually a larger outdoor living space typically in the back yard.
CONS of 2 Stories:
CON – Greater risk of injury – Stairs always present the potential for young kids and edlerly falling down. YOu usually have to add baby proofing like baby gates. Most stairs are difficult to adapt for people with disablities, too….and making a second floors accessible can cost upwards of $20,000.
CON – Higher energy costs – Hot air rises, cold air drops. So your upstairs will run hot and your downstairs colder. It is usually more expensive to keep the higher stories cool and warm accordingly.
CON – Higher noise – You will hear the people walking around upstairs and if they play really loud music, youwill hear that too.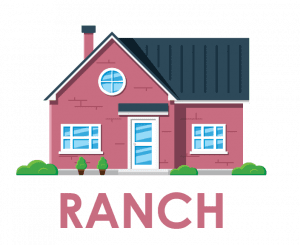 RANCH FLOOR PLANS
PRO of Ranches:
PRO – Maintenance is easier – One story homes are easier to clean on the inside – no stairs to lug vacuums or laundry up and down – AND way easier on the outside. Shorter ladders only needed for clenaing windows, gutters or hanging outdoor lights. Also less expensive to paint when needed.
PRO – Safer to navigate – Toddlers and elderly parents may not be able to safely navigate the stairs. Single level living reduces the number of falls or accidents. It also means once YOU are old, you can safely age in the home you built memories in.
PRO – Easier to evacuate – In case of a fire, everyone has a window and a short drop out. Earthquake…ranches are the safest structure during one.
PRO – Easier for parents with small children – Small children usually mean many times getting up at night. With all the bedrooms on one level, you aren't going up and down the stairs and fighting a baby gate all night. You can do this with a 2 story with all bedrooms up too.
CON of Ranches:
CON – More expensive to build – A ranch plan requires a larger footprint, which means more concrete, more roofing materials and a larger homesite. Both add to the cost.
CON – There is less privacy – with bedroom windows on the ground floor, people can literally walk by or worse see in from the nearby home.
CON – Smaller yard – The ranch plan's larger footprint takes up some of the space that would have been your rear yard.
---
#2 Different Feature
There are perks to each type of floor plan design.
2 Story floor plan options:
Ranch floor plan options:
---