The

 Great Room Great 

Debate
BY CHAFIN COMMUNITIES
---
What Do You Want In Your New Home?
The Great Debate About Great Rooms is which is better?
2 Stories High or Raised Ceiling with an Upstairs Media/Loft.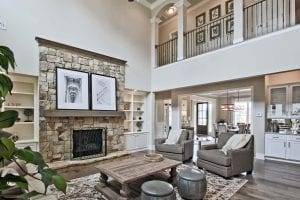 Most of our 2 Story plans come standard with a 2 Story Great Room
Several of our 2 story plans have the option of adding a media room/loft upgrade instead: Avalon, Berkshire, Brunswick I, Brunswick II, Castleberry, Cottonwood, Nottingham, Tudor, Turnbridge, Westfield, Windermere

There are a tons of upgrades you can add to great rooms;  can lights, shiplap, built in bookcases, brick or stone fireplaces
---
Here is the Castleberry Plan with a 2 Story Great Room, that has an overlook from the walkway hall above:
---
Here is a single story great room with the optional loft/media room up: 
This upgrade comes with a raised coffered ceiling in the great room and upstairs a media/loft with an open arched view to the hallway and raised steps into Loft.
---