Home Office 

or Guest Suite
BY CHAFIN COMMUNITIES
---
What Do You Want In Your New Home?
Guest Suite or Home Office?
Would you like a GUEST SUITE on the main NOW, but like to be able to easily turn it into a HOME OFFICE later?   OR vice versa?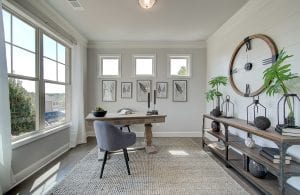 Chafin Communities offers several 2 story plans with a variety of options for a guest suite. 
Several 2 story plans offer this feature; some as standard and sme as an upgrade

Guest suites on the main can easily be used as a formal living room or study

Guest suites up can be easily used as a home office or craft/hobby room

There are plans with "Flex Space/Study on the Main" that offer the option to upgrade that area to a guest suite on the main instead of the study

Some plans have guest suites in locations that make them feel more private

The bathrooms in guest suites come in a variety of different options ranging from not private, very private or semi-private
---
Here is a list of different ways the guest suite can be built that affect how private the bath is:
Guest suites with access to the bath only from the hall 

Guest suites with two access doors to the bath (one bath to hall and one private bath to the bedroom)

Guest suites with totally private full baths

Guest suites with semi-private baths with two or three room baths with vanities either totally private or a shared double vanity both sharing the toilet/tub area.
---
 2 Stories with Guest suites with Full Baths
The Brunswick I,  The Brunswick II, The Cambridge Plan, The Cottonwood Plan, The Greenbrier Plan, The Kirkwood Plan, The Paterson Plan, The Piedmont Plan, The Richmond Plan, The Turnbridge, The Westfield
These plans all have guest suites on the main that have two doors to the bath: one from the hall and one privately connecting it to the guest bedroom.  Some of the plan's suites also have walk in closets.  Also consider the location of the guest suite because that makes some suites more private than others.
The Brunswick II Plan:
---