What Type of Secondary Baths Do You Want?
---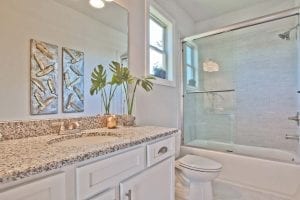 This usually seems like an obvious choice, but we have learned from past home buyers that there are some less obvious things to

 consider:
How many do you need and what styles you need now AND for the future?

Teenagers that want their own private sinks – Jack and Jill Style offer privacy

Younger children that need a bath tub – hall baths save money

Parents moving back in that private guest suites on the main

Do you prefer a Jack & Jill type of secondary bath? Advantages:

They have the vanity area(s) separate from the shower/toilet area

They either have two separate vanities or one large double vanity

Do you want hall access secondary baths only?  

How many sinks in that bathroom?

One sink so you have extra vanity space or two sinks for easier sharing?

Would you like a bedroom that is totally private: like a mini suite with its own bath & walk in closet?
Would you like a bedroom that is semi-private with a both a private door to the bath and one hall door to the bath?
Would you like a guest suite on the main that could also be home office?
Do you want a powder room on the main?
If you have questions, our online chat is fast and easy.