AWARDS
---
Year after year, Chafin Communities has proudly received industry awards and recognition for our quality construction, design innovation, and industry achievements.
---
Chafin Communities always strives very hard to build amazing homes, so to be recognized for these efforts is a wonderful highlight on our journey.  Below is a timeline of our awards stemming back to 1997. 
---
The OBIE awards are the highest level of recognition given by the Atlanta housing industry and Chafin
Communities has received over 80 Obie Awards since 1997.
"We are so proud to be honored by the Greater Atlanta Home Builders Association and earning this standard of excellence every year. Being recognized by our peer group is a very significant accomplishment and reflects the priority we place on quality, style, and innovation." – Eric Chafin
Each year, the Greater Atlanta Home Builders Association presents OBIE Awards for major achievement in building, marketing, and remodeling. The OBIE Awards, previously called the Professionalism Awards, began in 1980 and has grown throughout the years to now feature more than 125 building, remodeling, marketing, and personal achievement categories.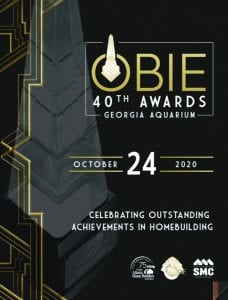 2020 – GOLD "Single Family Detached" • "$400,000 to $499,999" – The Hills at Hamilton Mill
2020 – GOLD "Single Family Detached" • "$500,000 to $599,999" – Stonewater Creek
2020 – SILVER "Single Family Detached" • "$500,000 to $599,999" – Stonewater Creek
2020 – SILVER "Single Family Detached" • "$300,000 to $399,999" – Mallards Landing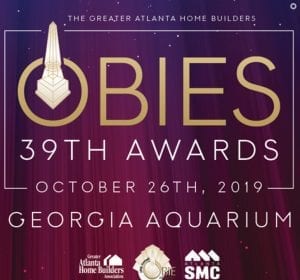 2019 – GOLD "Single Family Detached" • "$300,000 to $399,999" – Village at Ivy Creek
2019 – SILVER "Single Family Detached" • "$300,000 to $399,999" – Parkside at Mulberry
2019 – SILVER "Single Family Detached" • "$400,000 to $499,999" – Hills at Hamilton Mill
2019 – SILVER "Best Building Design" • "$200,000 to $299,999" – Walnut Park at Mundy Mill
2019 – GOLD "Best Building Design" • "$300,000 to $399,999"- Village at Ivy Creek
2019 – SILVER  "Best Building Design" • "$300,000 to $399,999" – Turnbridge
2019 – GOLD "Best Amenities Package" – Stonewater Creek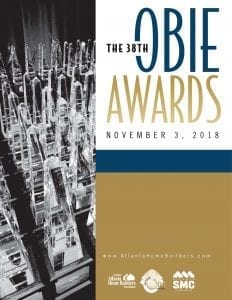 2018 – GOLD "Single Family Detached" • $199,999 and Under – Creekside at Mundy Mill
2018 – GOLD "Best Building Design" • Jacobs Creek – The Arlington II
2018 – SILVER "Single Family Detached" • $400,000 to $499.999 – The Hills at Hamilton Mill
2018 – SILVER "Best Building Design" • Magnolia Park at Mundy Mill – The Brentwood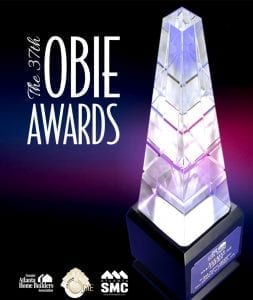 2017 – GOLD "Single Family Detached" • $400,000-$499,999 – Hills at Hamilton Mill
2017 – GOLD "Single Family Detached" • $300,000-$399,999 – Trilogy Park
2017 – GOLD "Single Family Detached" • $199,999 and Under – Willow Park at Mundy Mill
2017 – GOLD "Single Family Detached" • $200,000-$299,999 – Waterbrooke
2017 – SILVER "Single Family Detached" • $300,000-$399,999 – Hills at Hamilton Mill
2017 – SILVER "Single Family Detached" • $200,000-$299,999 – Walnut Park at Mundy Mill
2017 – SILVER "Single Family Detached" • $199,999 and Under – Willow Park at Mundy Mill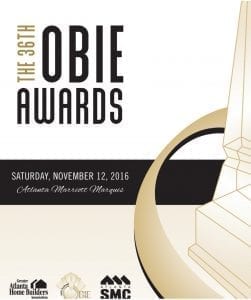 2016 – GOLD "Best Building Design Detached Model" • $300,000-$399,999" – Hills at Hamilton Mill
2016 – GOLD "Best Interior Merchandising Detached Model" • $199,999 & Under –Township at Mulberry Park
2016 – GOLD "Single Family Detached" • $300,000-$399,999" – Hills at Hamilton Mill
2016 – GOLD "Single Family Detached" • $200,000-$299,999 – Willow Leaf
2016 – GOLD "Single Family Detached" • $199,999 & Under – Township at Mulberry Park
2016 – SILVER "Single Family Detached" • $400,000 " $499,999 – Stonewater Creek
2016 – SILVER "Single Family Detached" • $300,000 " $399,999 – Ashbury Park
2016 – SILVER "Single Family Detached" • $199,999 & Under – Township at Mulberry Park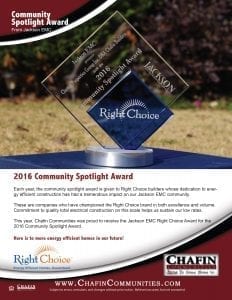 2016 Right Choice Community Spotlight Award
2016 – "Spotlight Award" • The Hills at Hamilton Mill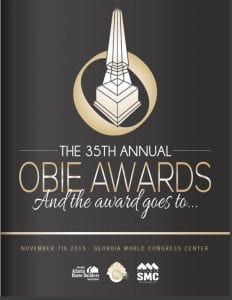 2015 – GOLD "Single Family Detached" • $299,999 & Under – Willow Leaf
2015 – GOLD "Single Family Detached" • $200,000-$299,999 – Barringer Park
2015 – GOLD "Single Family Detached" • $199,999 & Under – Township at Mulberry Park
2015 – SILVER "Single Family Detached" • $400,000 " $499,999 – Stonewater Creek
2015 – SILVER "Single Family Detached" • $299,999 & Under – Willow Leaf
2015 – SILVER "Single Family Detached" • $200,000-$299,999 – Parkside at Lanier Springs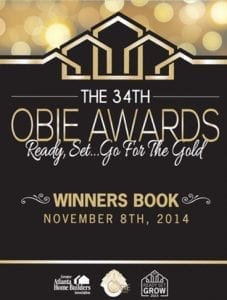 2014 Obie Awards
2014 – GOLD "Single Family Detached" • $500,000 – $574,999 – Stonewater Creek
2014 – GOLD "Single Family Detached" • $200,000 – $289,999 – Waterside at Lanier Springs
2014 – GOLD "Single Family Detached" • $199,999 & Under – Township at Mulberry Park
2014 – SILVER "Single Family Detached" • $425,000 – $499,999 – Stonewater Creek
2014 – SILVER "Single Family Detached" • $350,000 – $424,999 – Summer Haven
2014 – SILVER "Single Family Detached" • $290,000 – $349,999 – Waterside at Lanier Springs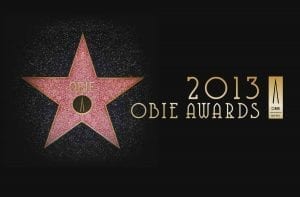 2013 Obie Awards
2013 – GOLD "Best Landscape Design Community" – Stonewater Creek
2013 – GOLD "Single Family Detached" • $500,000 – $574,999 – Stonewater Creek
2013 – GOLD "Single Family Detached" • $500,000 – $574,999 – Stonewater Creek
2013 – GOLD "Single Family Detached" • $200,000 – $289,999 – Waterside at Lanier Springs
2013 – SILVER "Single Family Detached" • $290,000 – $349,999 – Stonewater Creek
2013 – SILVER "Single Family Detached" • $200,000 – $289,999 – Waterside at Lanier Springs
2013 – SILVER "Single Family Detached" • $199,900 & Under – Parkside at Lanier Springs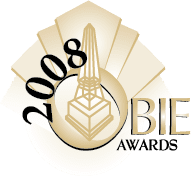 2008 Obie Awards
2008 – GOLD "Single Family Detached" • $200,000 – $289,999 – Yorkshire Estates
2008 – GOLD "Best Building Design Attached Model All Builders" • $149,999 & Under – Longview Walk
2008 – SILVER "Single Family Detached" • $199,999 & Under – Maplecliff
2008 – SILVER "Single Family Detached" • $149,999 & Under – Longview Walk
2008 – SILVER "Single Family Detached" • $149,999 & Under – Centennial Walk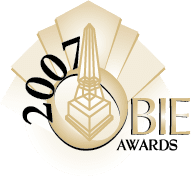 2007 Obie Awards
2007 – GOLD "Single Family Detached" – $370,000 " • $419,999 – Lanier Springs
2007 – GOLD "Single Family Detached" – $270,000 " • $319,999 " Lanier Springs
2007 – GOLD "Single Family Detached" – $230,000 " • $269,999 – Lanier Springs
2007 – GOLD "Single Family Detached" – $150,000 " • $189,999 – Village Green
2007 – GOLD "Best Building Design Detached Model" • $199,999 & Under – Riverpark at Cedar Grove
2007 – SILVER "Best Building Design Detached Model" • $199,999 & Under – Riverpark at Cedar Grove
2007 – SILVER "Single Family Detached" • $150,000 – $189,999 – Village Green
2007 – SILVER "Single Family Detached" • $149,999 & Unde – Lakeview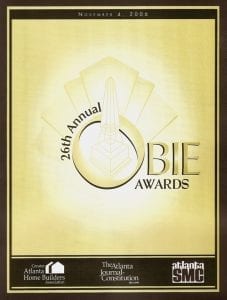 2006 Obie Awards
2006 – GOLD "Single Family Detached" • $150,000 – $189,999
2006 – GOLD "Single Family Detached" • $149,999 & Under
2006 – SILVER "Single Family Detached" • $149,999 & Under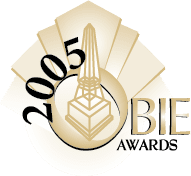 2005 Obie Awards
2005 – GOLD "Best Building Design Detached Model" • $149,999 & Under
2005 – SILVER "Best Building Design Detached Model" • $149,999 & Under
2005 – SILVER "Single Family Detached" • $170,000 – $219,999
2005 – SILVER "Best Building Design Detached Model"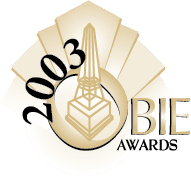 2003 Obie Awards
2003 – GOLD "Single Family Detached" • $370,000 – $419,999
2003 – GOLD "Single Family Detached" • $320,000 – $369,999
2003 – SILVER "Single Family Detached" • $119,000 & Under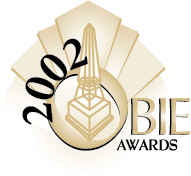 2002 Obie Awards
2002 – GOLD "Single Family Detached" • $190,000 – $219,999
2002 – GOLD "Single Family Detached" • $100,000 – $129,999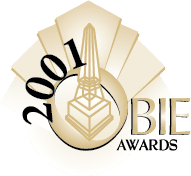 2001 Obie Awards
2001 – GOLD "Single Family Detached" • $99,999 & Under
2001 – SILVER "Single Family Detached" • $190,000 – $219,999
2001 – SILVER "Single Family Detached" • $100,000 – $129,999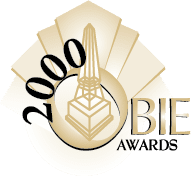 2000 Obie Awards
2000 – GOLD "Single Family Detached" • $130,000 " $159,999
2000 – GOLD "Single Family Detached" • $99,999 & Under
2000 – SILVER "Single Family Detached" • $100,000 – $129,999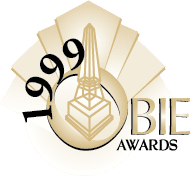 1999 Obie Awards
1999 – GOLD "Single Family Detached" • $300,000 – $349,999
1999 – SILVER "Single Family Detached" • $130,000 – $159,999
1999 – SILVER "Single Family Detached" • $100,000 – $129,999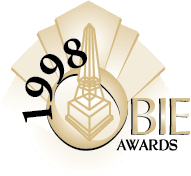 1998 Obie Awards
1998 – SILVER "Single Family Detached" • $160,000 – $189,999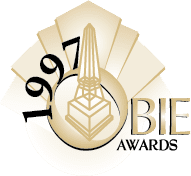 1997 Obie Awards
1997 – GOLD "Single Family Detached" • $99,999 & Under
1997 – SILVER "Single Family Detached" • $160,000 – $179,999