The

Design 

Appointment
BY CHAFIN COMMUNITIES
---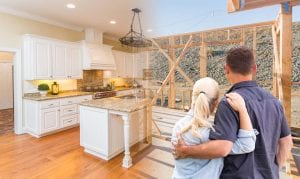 If you purchase a Chafin home that is just started, then you will be going to a "Design Appointment" where you will be choosing a lot of the colors of your home.
If you purchased an almost complete home, you will not have to go to a Design Appointment, the decorator team has done all the hard work for you.
Each community and home is unique, so in an effort to keep it more concise below you just find a more general timeline.
We have a full time in house design team headed up by Maggie Gilstrap.   Maggie is a University of Georgia graduate with a 4 year degree in Interior Decorating.  She and her staff do all of our model homes as well as create the decorator packages.  With over 700 homes to design and build each year, she and her team are on the constant move trying to always offer our home buyers the latest and greatest in design options.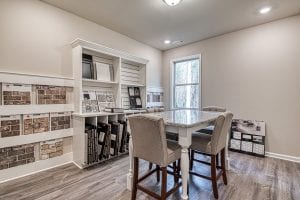 Each model home has a room converted to a Decorator Room – see photo above.
Here is what happens at a Design Appointment at Chafin:
You will choose your exterior and interior colors from The Decorator Collections that are custom designed by our decorating team to make it less stressful for you make sure your new home will all coordinate well.
TIP: We usually recommend you walk inside under construction homes in your community to get a real feel for what you like and dislike (and look at the outsides too!)
Each community and floor plan has unique choices available that will vary from this list, but it is close. 
 Meet with the On-site Agent at the Model Home

They will give you an overview of the design process and all available options for that particular Chafin community and specific floor plan

There will be sample boards of each of the products offered for: Flooring, Backsplashes, Brick, Cabinets
Choose Exterior Options

This will depend on the stage of your's home build timeline, so this is not always possible for you to choose

Usually this includes features like: paint colors, shutter colors, brick & mortar choices or other home exterior related options like gutter colors, but each community has a unique list of choices that your onsite agent will guide you through  

Most communities have 10 to 30 different exterior options to choose from 

You DO have to be mindful of homes near you, because you do want your home to be unique, so you will have to choose an exterior package not the same as your neighbors
Finalize and Sign it
Begin Seeing Progress

Sit back and watch your home being built!  It is always fun to watch it all come together




As your home gets close to your closing date, the home will get final touches and cleaned
If you are curious what happens when, view Chafin's online timeline of building a new home.
---