Chafin Communities' Home Building Timeline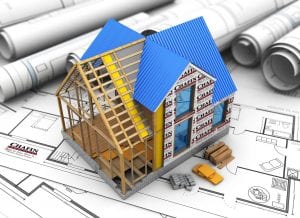 Please note that due to COVID-19 all of these times take slightly longer and are close, but not exact.  Each home will be slightly different.  We have had to add more time to some things and are constantly adjusting in real time.  We ask that you please take that into consideration when using this.
Building a new home is so exciting and the more you know, the more you can sit back and enjoy (rather than stress that something is not done on time).  We created this timeline and infographic to show you roughly when things are ordered and then installed to help that.  Note, these are rough times and not set in stone.
There are a lot of other processes that went on prior to actually start building your home.  The land purchase was probably done 2 – 3 years prior, the development at least 1 year ago and the building permit one to two months before grading. So this is mainly from grading on.
This is an infographic based on the average time to build a 3,000sf or smaller home of about 120 to 150 days (larger homes and basements take even longer).  This timeline has been fairly on point for at least the last 5 years here.  Weather, government regulations and how many subcontractors are available can shift this time frame significantly.  The winter months here in Georgia tend to have a few weeks of freezing weather and the occasional snow storm, then the spring has some rainy weeks that can wreak havoc on this timeline.  
Below the graphic is a more detailed itemized timeline.
SEE WHAT OPTIONS YOU CAN ADD TO A CHAFIN HOME
Here is a more detailed construction timeline from grading on for average home of up to 3,000 sf.  
Since each county has different requirements before you can start grading, this starts after grading is complete.  Some counties issue building permits in one month, some take two or more and grading takes about 1 to 2 weeks.
A basement will take longer by about one to two months and a larger home will take much longer, too.  
This is an ESTIMATE and this is if all goes perfectly, realistically we can add one to two weeks to allow for weather delays.  
Too much rain and too low temperatures will make certain stages impossible to do and most steps cannot be skipped…(i.e. you cannot install a backsplash if the granite isn't in and you can't install carpet if you have no driveway to get it safely into the house).
Days 1 – 22
Job Initiation Order (JIO) sent to superintendent

Order roof truss system

Footing/slab material

Temporary Electric

Footing install

Block material & pin footing

Block labor

Foundation survey & setbacks verified

Utility install

Plumbing in slab and safety grade

Plumbing inspection

Slab prep 1 inspection
Days 23 – 33
Days 34 – 36
Framing continues

Roof material drop off

Sheating Housewrap inspection

Roofing labor

Dumpster drop off/pick up #1

Schedule gas line (if needed)

Windows/doors install exterior

Framing punch out #1
Days 37 – 39
Plumbing rough in

Fireplace rough in

Measure for cabinets

Measure for interior doors

Finish roofing

HVAC rough in

Install roofing pipe boots

Order brick/stone/siding delivery

Punch out list due
Days 40 – 53
Electrical rough in

Brick/stone material drop off

Media/security system rough

Fireplace inspection

Brick/stone labor

Low voltage inspection

HVAC rough in inspection

Framing punch out #2

Plumbing rough inspection

Electrical rough inspection

Inspections for brick/stone install

Framing inspection

Wall insulation install

Insulation inspection

Inspections for all custom features pre-drywall

Order drywall

Order siding
Days 54 – 61
Drywall material drop off

Drywall install

Roofing shingles install

Order exterior paint

Siding install

Gas line install

Electrical meter base install

Exterior paint

Trim material ordered

Gutters

Rough grade
Days 62 – 70
Trim labor

Fireplace mantle trim out

Dumpster #2

Concrete flatwork (driveway)

Deck install

Paint interior #1

Irrigation sleeves

Electric meter

Tile shower

Cabinet delivery

Cabinet install

Lighting delivery

Shower door measure

Ceiling insulation blow in

Drywall point up

Set columns
Days 71 – 74
Days 75 – 79
Interior paint #2

Granite and sinks install

Appliances order

Garage door install

Gas meter inspection

Shutter in stall (if have any)

Tile backsplash install

Plumbing trim out (hook up water heater, hook up sinks)

Final grading

Gas meter install

Electrical trim out #2 (lighting installed)

Final plumbing inspection

Meda/alarm trim out

Trim accessories and shower door install

HVAC start up

Final electrical inspection

Final mechanical inspection

Landscaping

Railings install
Days 80 – 85
Carpet

Cabinet shoe mold and touch up

Sod install

First cleaning

Dumpster #3

Pressure wash exterior

Termite install

House numbers installed

Window screens (per community)

Final inspection
Days 86 – 96
Touch up clean #1

Quality control

Quality control trim labor

Quality control drywall touch up

Quality control paint touch up
Days 97 – 99
Appliances install

First walk through

Punch out done

Touch up clean #2

Final walk through
Day 100
We hope you find this interesting and please remember this is the plan that can and will be changed to meet each home buyer's and home's unique circumstances.  
Our team takes timing very seriously and wants to make each closing happen on time, because we understand how challenging timing a move can be.  We are here to help, so if you have any questions, please as the onsite agent that is working with you.
Happy Home Building!