HOW TO CLEAN GRANITE COUNTERTOPS  |  Chafin Communities
Granite countertops continue to grow in popularity for today's kitchens and bathrooms, knowing how to clean them is key. The stone is naturally resistant to heat, water, and generally stain resistant. Granite can scratch and damage. Understanding how to protect the surface will keep them shining for years to come.
By: Colleen Voisin  Date: 6/2/2021
KNOW THE FACTS ABOUT GRANITE COUNTERTOPS
Granite stands up well against everyday wear and tear. Most common household products used today are a NO for cleaning granite countertops.  These cleaners contain harmful ingredients that can scratch, dull, even damage the stone. These products can also deteriorate the protective sealant. Protecting your granite now will avoid any resurfacing sealant costs in the future. 
A sealant does not make surfaces stain proof. Sealants give the stone a barrier to be more resistant to stains rather than prevent them. They also protect the stone. Stains can still happen especially in food prep areas and bathrooms. Common stains result from oil-based products. So don't store cooking oils and oil based cosmetics or creams on granite countertops.
WHAT NOT TO USE WHEN CLEANING GRANITE COUNTERTOPS
Here are some common household products that can damage your granite. Be sure to avoid them. Knowing why these products are detrimental can save you money in the long run.
Do not use steel wool, scouring pads like SOS, or even the abrasive side of a sponge.
Say no to using commercial cleaners or any abrasive cleaning creams or powders.
Do not use bleach or any ammonia or ammonia based products like Windex.
Say no to using acid based soaps or products including vinegar.
These products are all bad news and will break down the protective sealant. They will dull the shine of your granite countertops. Some cleaning products and solutions can not only damage the sealant but seep into the stone.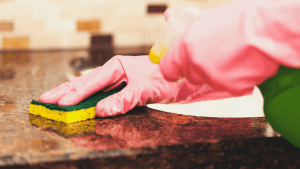 NO FANCY CLEANERS NEEDED
So what products should you use to clean your granite countertop? Great question! Routine cleaning is as easy as a mild dish soap, water, and a soft sponge or microfiber cloth. Now that you know this fact the article is over…not so fast!
A mild dish soap will do the trick for regular cleanings, be sure to dilute the soap in water. One important note to mention is to read the labels of your dish soap to avoid ANY acidic ingredients. Avoid dish soaps containing any vinegars, citrus like orange, limes, or lemons. These items are acid based soaps that can actually break down the granite sealer over time.
Acid solutions can damage the stone itself regardless if your countertops are sealed or not. This is called  etching. Everyone has seen the damage of etching on a surface. The best example of this is otherwise known as "the ring." You know, that coffee stain on the magazine or better yet remember that time your grandmother was having a fit because you forgot to use a coaster. Ah yes, we have all been there.
Beverages that contain alcohol, coffee, juice, or soda contain an acid base. That liquid can be damaging to granite as well as woods and other surfaces. So what's the take away from this section?  Your grandmother was right, use the coaster, even on granite.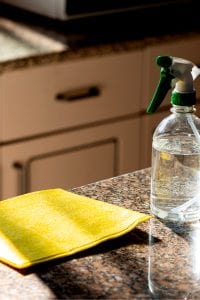 CLEANING AND DISINFECTING YOUR GRANITE COUNTERTOPS 
When cleaning your countertops with soapy water, wipe in small circular motions. Dry them off after words to protect the granite from water damage. If you don't dry water off then your granite is subject to water stains, water spots, and streaking.
To disinfect your countertops use a 50/50 based solution of water and rubbing alcohol or hydrogen peroxide. Put into a spray bottle and label the jar. A cup of each should do it. Spray solution on countertops, wait a few minutes and then wipe dry.
You can go out and buy a cleaner designed to clean granite but we found those to be expensive. You can achieve the same results at home for much less. An ounce of prevention is worth its weight in gold, so let's get it right the first time around.
Disclaimer: Recommended for homeowners with granite countertops to do further research on products you chose to use. All Chafin Communities are built with granite countertops in the kitchens and bathrooms.
---