The

"Pre-Sale" vs the "

SPEC"

Home
BY CHAFIN COMMUNITIES
---
What's The Difference? "Pre-Sale" Home vs. "SPEC" Home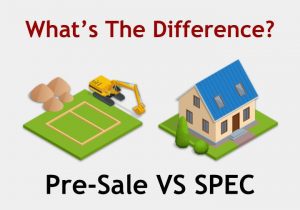 They each have advantages and disadvantages. Find out what is better for you.
A "pre-sale" is a home where you start from the ground up, choose the lot, the floor plan, the colors, and build the entire thing.
The advantage to a "pre-sale" is you get to choose everything from lot to floor plan to colors to custom features. 

The disadvantage is that it takes a lot longer.

There is usually a pre-sale premium, so this way usually costs more
A "spec" is a home already under construction or completed.
One key advantage to a "spec" is there is usually no "pre-sale" premium, so spec homes usually cost less

There is less stress because all the colors have been chosen by the decorating team, so you can see it all and don't have as much of a guessing game over the finished results

Another advantage to the "spec" is you already know how the lot will end up after grading is done
---
TO MORE HOME BUYER TOOLS     DOWNLOAD PRINTABLE CHECKLISTS
---
Need Help Finding a Pre-sale or SPEC Home That Is Right for YOU?
Let our ONLINE Specialists guide you! 
 Contact Us Today: ONLINE Chat 

or Call 1-470-269-3829.