Choosing a

Floor Plan
BY CHAFIN COMMUNITIES 
---
There is a lot more than just how many bedrooms a home has to consider when researching your dream floor plan.
There are subtle things that you may not notice until you have already moved in, so we created this section to show you some of these thing you may find fun, inspiring, or cool for your dream home.  Remember to think of the impact you now AND in the future.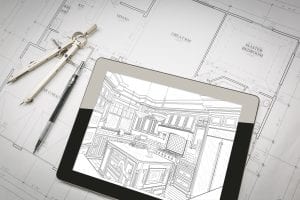 Get your pen and paper ready to write up YOUR wish list!
You can also download this checklist by clicking button and then printing to PDF.
---
Top things to consider when looking a floor plan:
---
How Many Stories Do You Want?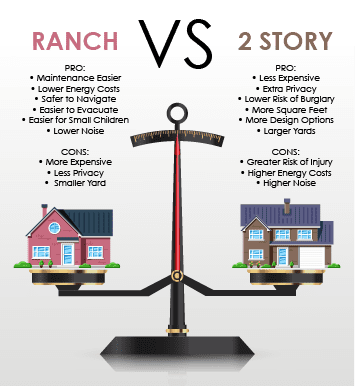 Ranch or 2 Story or Ranch with Finished Bonus Up?
The main reason people like a ranch is because there is no stairs (or if there are stairs, it goes up to a bonus room or extra bedroom/bath that is rarely used except for company).  There are perks to single level living.  There are some 2 story plans with the primary bath on the main too.
---
What Type of Kitchen Layout Do You Prefer?
Traditional VS Designer VS Gourmet
Most "traditional" kitchens come with a 30″ slide in all in one range with the microwave install over.  Some communities offer an upgrade to either the "designer" kitchen with has the cooktop separate from the oven OR the "gourmet" kitchen which usually has a 36″ 5 burner cooktop with a vent hood over it and the ovens and microwave go in a cabinet on the wall.  Some communities offer even more detailed customization like adding a chimney style vent hood over the cooktop and counter depth refrigerator cabinet openings.
Almost all of our floor plans currently come with large center work island in the kitchen with a flat top for bar stool seating.  Each floor plan has a unique sized island, so ask for more details if you need a particularly large one.
THINK ABOUT Storage in the kitchen and walk in pantries
Storage in the kitchen.  Not all pantries are created equal, so make sure to see if the plan has one that suites your needs.  Not everyone needs a large one, but most want a walk in pantry.  Some plans also have either extra large pantries for bulk storage.
Lighting – Adding more lights to a kitchen usually really makes it amazing.  So look at the ceiling lights, the pendants, and the under cabinets lights to see if you want to add them.
Cabinet color – some communities offer different cabinet colors and different cabinet hardware options
---
Where Do You Need Space for Dining?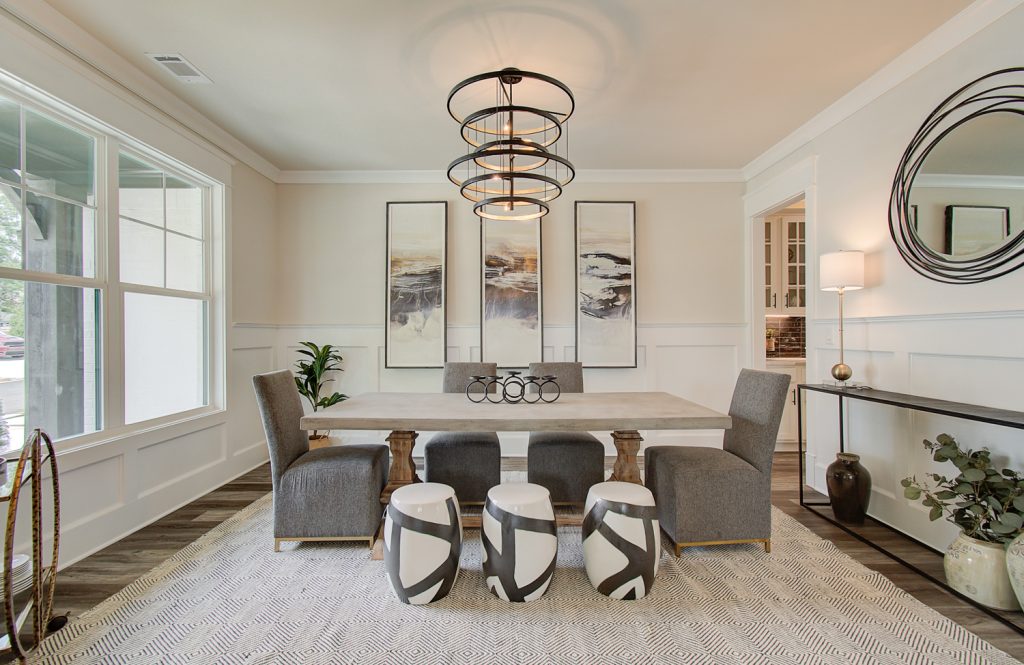 Formal Dining or Casual Dining or Separate Breakfast Area
The breakfast area – pay attention to the location.  Open floor plans can have the breakfast area in between the kitchen and the great room, while more traditional plans have the breakfast room more separate at the end of the kitchen.  It just depends on your style!
---
How Do YOU Prefer Your Great Room to Be?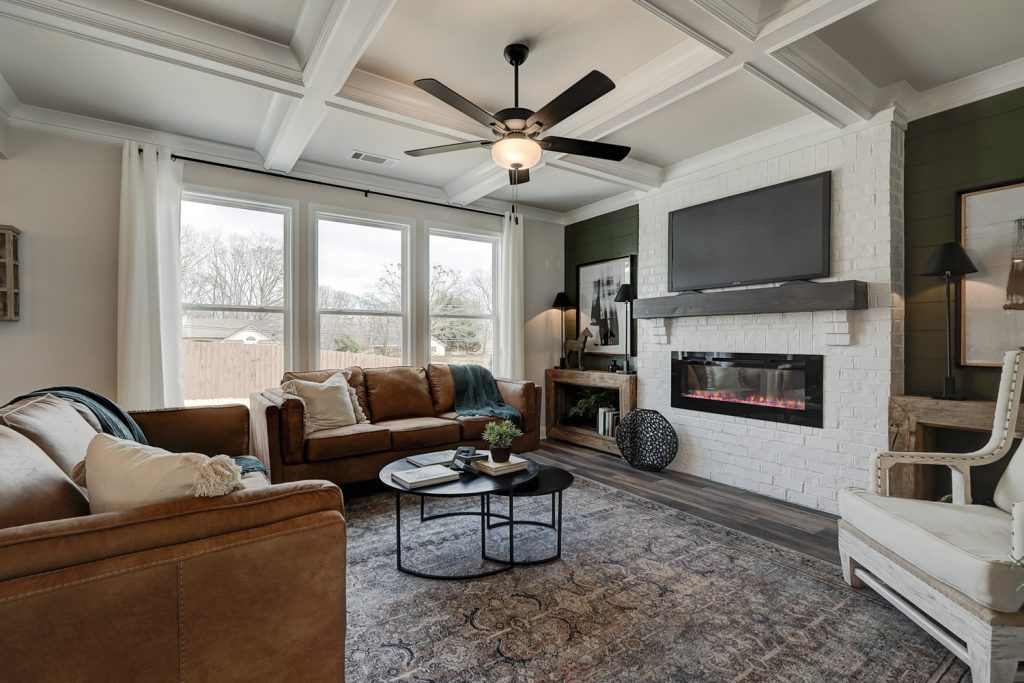 Do you want a 2 story grand great room or would you prefer a raised ceiling with a loft or media room above?  Most of our 2 story plans offer the option to upgrade to the loft or media room up.  Do you want a modern flat ceiling or a coffered elegant ceiling?  Do you want a fireplace?
Interior Fireplaces in Great Rooms – Yes or No?
Each community has it's own standards usually dictated by the utilities available in the area, so if you want to add a fireplace you will have to ask if what you want it possible.  Options for fireplace include modern electric wall units, wood burning, direct vent or ventless.  Options for the look of the fireplace ranges from marble surrounds with custom wood trim mantle with the option to raise it and make it brick or stone and then if you want it to go to the ceiling.
---
Bedrooms!  How Many?  What Level?
There are quite a few options at Chafin.  Guest Suites on Main!  Primary Suites on Main! 3, 4,5 & even SIX Bedroom Homes!  What do you need now…and later?
_______________
Is a bedroom on the main level?
There are many reason to have a guest suite or bedroom on the main level…not everyone can walk up stairs or you may prefer your privacy when company stays over.  Many of our floor plans have a guest suite on the main.
_______________ 
Do you need the primary bedroom to be on the main level?
A few of our 2 story plans and all of our ranch plans offer the primary bedroom on the main.  Walking up and down stairs to take care of young children may not be ideal, but if you have no children or your children are grown up having your primary bedroom on the main makes life a bit more enjoyable.
_______________
Do you need a completely private guest suite?
Many of our floor plans offer bedrooms with totally private full baths.  Some are upstairs and some are down.  If you have company often or have a room mate, these private guest suites can make these more private for everyone.  Another great use for a guest suite is if you have parents that live with you, this can give them their privacy.
_______________
Do you want a primary bedroom oversized or with a sitting room?
Some of our floor plans have sitting rooms in them and some of our plan's primary suites are SO large, there is plenty of extra space to add a small home management area, a study, or a reading area.
_______________
How many bedrooms DO you need?
Many of our floor plans can be built with different numbers of bedrooms.  If you need a certain number of bedrooms, here are our plans organized by bedrooms here…
---
How Do You Want Your Primary Bath? How many Baths Do You Need?
There are multiple ways secondary baths can be laid out…the main difference is private access or hall access.
Usually the rule is one sink per bedroom, but some people prefer the space on the top of the vanity and two people share a sink.
Pay attention to how private each bathroom is, some jack and Jill baths have totally private vanities inside the bedrooms with a shared toilet and shower area.  Others have one large vanity with the toilet and shower separate.  Then there are some that have hall access to the bathroom which limits the privacy.
Do you need a shower only option in one of your secondary baths?
Changing one bath, usually a secondary bath on the main level, to a shower only option for people who cannot get around the tub to get into the shower.
There are multiple ways to lay out the primary baths at Chafin.  Tub or No Tub?
Another trend is the Enlarged Shower that is an upgrade option in most of our plans.  This oversized all tile shower replaces the traditional tub and shower option.  Over half of our homeowners have told us they do not use the tub and welcome the extra large shower.
---
How Do You Need a Home Office?
THE DINING or HOME OFFICE:
Most people these days do not want a formal dining space, but very much need a home office, so some of our floor plans make this area flexible to make it what you need.
French doors – think about adding French doors to a study or home office for more sound proofing and privacy.
---
How Do You Need Extra Shared Living Space Up?
You may LOVE the plans that offer open lofts or media rooms up.  Usually they can be enclosed too.
Most of our two story plans have an upstairs loft area or media room option.  Sometimes it is an upgrade, so please ask.
Most loft areas are totally open to the upstairs hall and have the option of upgrading it to a bedrooms.
Most media rooms are more separate with either a step up and railing separating them from the hall or are totally closed off with the option of adding French doors for help with sound control.
---
How Do You Need Extra Storage or Unfinished Space to Customize Later?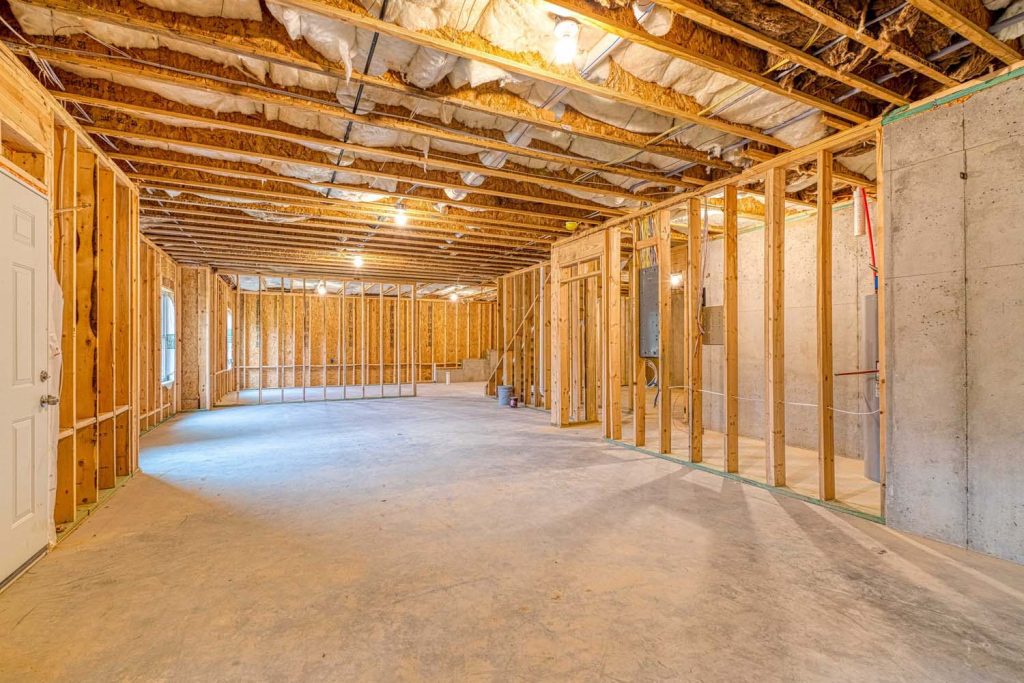 You May Find Our Basements Fit ALL Those Needs!
Since whether a homesite is either a basement or a slab is dictated by the topography of the land, you will have to ask the agent for more details.
Basements are unfinished with a sump pump for a future bath and are full daylight with a lot of windows and an exterior door.
This is a great place to either use as storage, put your lawn equipment in, or add a workshop.
You can also finish part of all of it for a multitude of uses like game room, play room, guest suite, in law suite, etc.
They are one of the more expensive options.
---
How Do You Need A LITTLE Extra Storage or a Place for an Extra Vehicle?  Or a Workshop? Or a Home Gym?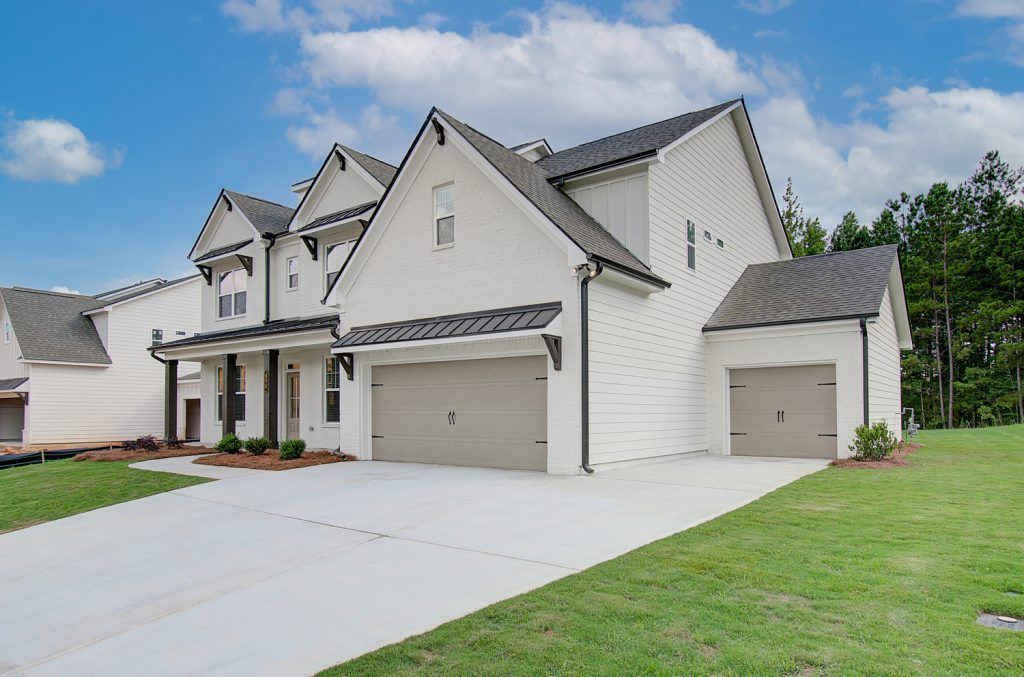 You May LOVE our Third Car Garage Options!
Most of our homes including our townhomes come with 2 car private garages, but not all, so please see the floor plan online to confirm.
A third car garage is a much lower cost upgrade to add storage or a workshop to a home.
Only Communities with homesites that are big enough to fit an additional garage can have this option.
---
Do You LOVE The Outdoors? Watching the Kids or Dogs in the Yard?
Check Out Our Outdoor Living Options! Covered Rear Porches with Options like Fireplaces & TV's!
Getting outside is fun and adding a covered rear porch to your home can make this even more enjoyable…you can enjoy it if it's raining and it keeps the harsh sun off of you so you can be outside and still be cool.
Almost all of our plans come with an outdoor patio or deck, but a few of them come with a small covered rear porch with the option of enlarging it.
Almost all of our plans have the option to upgrade to the covered rear porch.
You can also add an outdoor fireplace or screened in option to a covered rear porch on most plans.
---
We hope this helps you with your search for the right plan with the right features!
---
What is the difference between a "Feature" and an "Option/Upgrade"?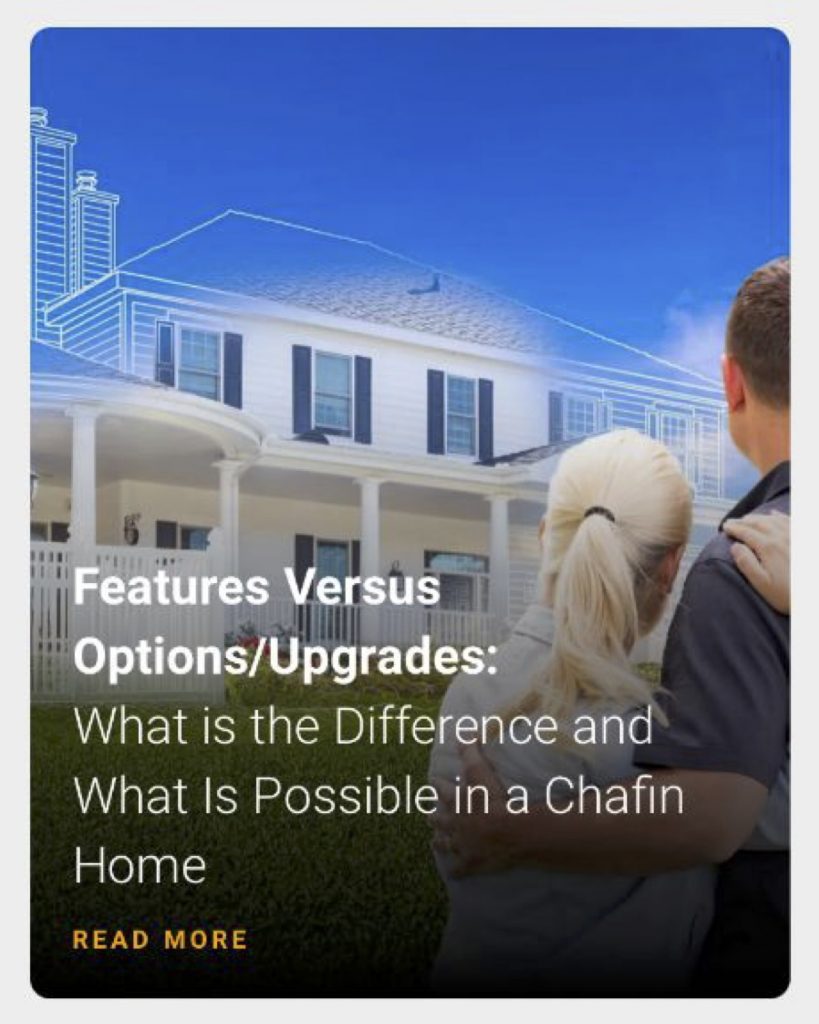 ---
Each community has it's own standard features and optional upgrades, so things detailed here may or may not be available at every community.  If you have one that is very important to you, please ask the Online Specialist via Chat or call:
1-470-269-3829
---
Read More About Finding The RIGHT Floor Plan for You: