Smart Home Technology Package | by Chafin Communities
When it comes to smart home technology (also known as home automation) it seems to be taking over the market right now. Home automation equipment continues to grow and the potential for this technology to really take off is on the precipice. The evolution of this idea to control your entire home with the touch of a button seems to be a page right out of a movie. In order to make our busy lives easier, technology needs to play a large role in giving us some relief.  Understanding how technology can improve our lives and save us money is ultimately the big picture.
By: Colleen Voisin  Date: 1/26/22
---
What is Smart Home Technology?
A smart home allows homeowners to control certain items in their homes such as lights, thermostats, and other devices remotely using a smartphone or tablet. Smart home technology provides homeowners with conveniences of everyday life with added cost savings.
Is This New Technology Worth It?
Yes! The convenience and safety that automated systems can provide make them well worth the trade off.  The home automation system will monitor and/or control a number of energy savings over time.  Furthermore, the home resale value is also going to have a major impact on potential buyers interested in a home's potential. 
What's in a Chafin Smart Home?
Our Chafin homes just got better.  For homes built in 2022, Chafin Communities homes now come with a Smart Home Technology Package. Our Smart Home Technology Package includes the following: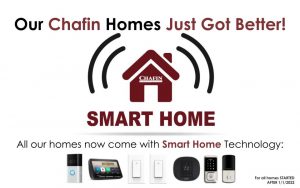 ---
For more information on how the smart home features work please ask our online specialist or onsite agents. Please note: exact model of smart home technology product will vary based on availability of supply. The links below are for general information only. Smart Home Technology packages start for all homes after 1/1/2022.