Home

Care

Guide
BY CHAFIN COMMUNITIES
---
Home Care Maintenance At Your Fingertips
This general purpose home care guide will help you operate your home maintenance for items that you should address every seasons. Follow this all year long to keep on top of the small stuff and run your new home right from the start. We are adding new topics that we believe are important to home maintenance.
Topics Currently Covered:
Driveways & Patios • Vinyl Windows • Gutters • Stone • Cabinets • Kitchen Disposals • Kitchen Backsplashes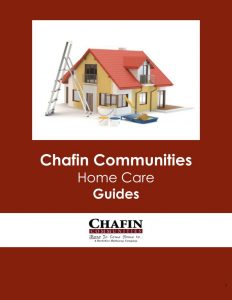 ALWAYS refer to your manufacturer's specific instructions for maintenance BEFORE doing any of these TIPS. This is for GENERAL purposes only. Chafin Communities assumes no liability for any damage caused. These are presumed accurate, but NOT guaranteed and can change without prior notice.
---
If you are looking for more home maintenance topics that you may not have seen in this guide check out our blog here.  We are continually writing about topics that can benefit our homeowners. You can use the dropdown menu and search through our Home Care Maintenance and Tips articles.
---
Do you have questions about qualifying for a home mortgage? What about the mortgage process and what homeownership could look like for you? Contact a Silverton Mortgage professional here! Silverton Mortgage is Chafin Communities partnered lender.